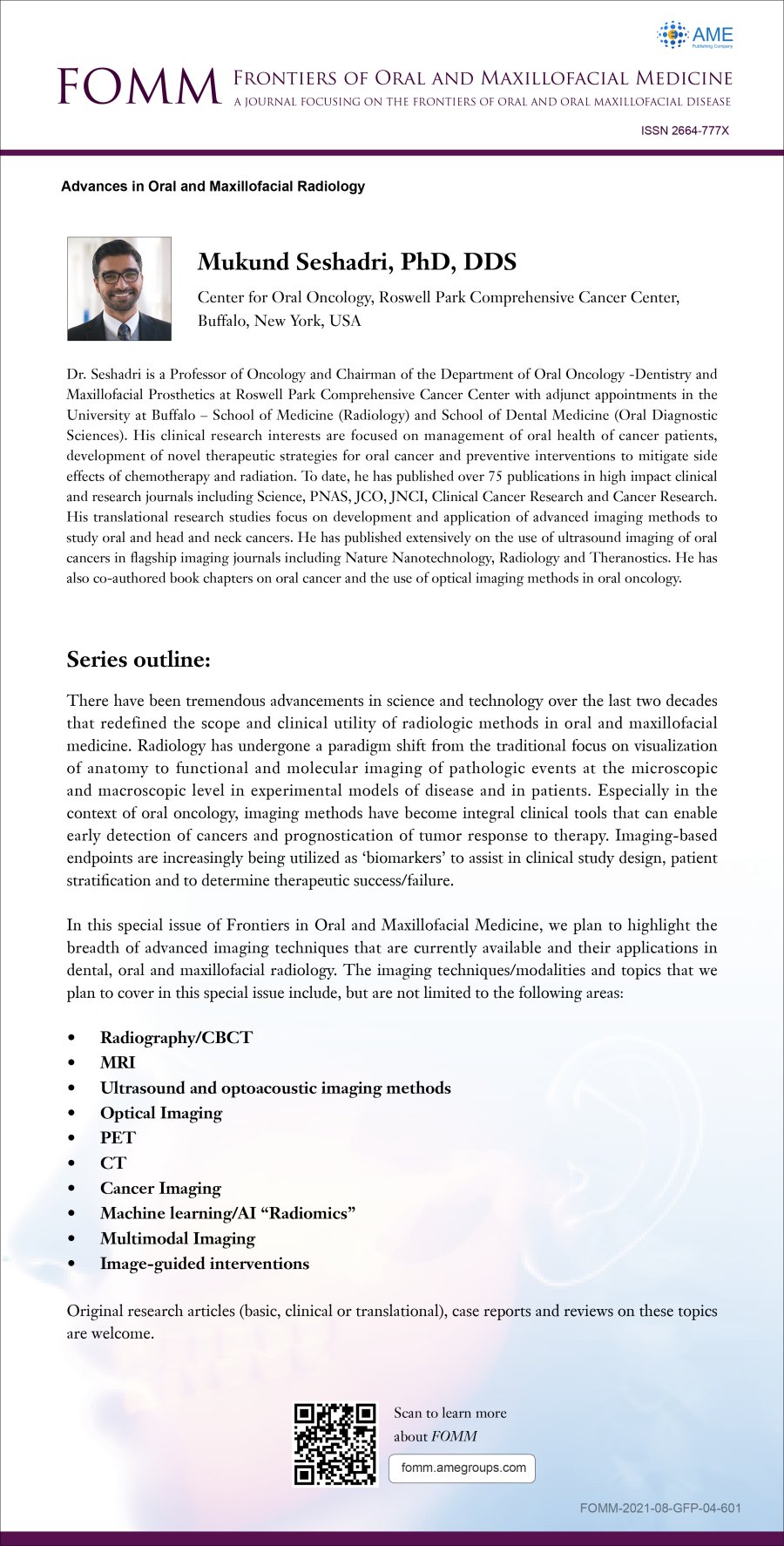 This series on Advances in Oral and Maxillofacial Radiology is edited by Dr. Mukund Seshadri, from Roswell Park Comprehensive Cancer Center, Buffalo, New York, USA.
Mukund Seshadri, PhD, DDS
Center for Oral Oncology, Roswell Park Comprehensive Cancer Center, Buffalo, New York, USA
Dr. Seshadri is a Professor of Oncology and Chairman of the Department of Oral Oncology -Dentistry and Maxillofacial Prosthetics at Roswell Park Comprehensive Cancer Center with adjunct appointments in the University at Buffalo – School of Medicine (Radiology) and School of Dental Medicine (Oral Diagnostic Sciences). His clinical research interests are focused on management of oral health of cancer patients, development of novel therapeutic strategies for oral cancer and preventive interventions to mitigate side effects of chemotherapy and radiation. To date, he has published over 75 publications in high impact clinical and research journals including Science, PNAS, JCO, JNCI, Clinical Cancer Research and Cancer Research. His translational research studies focus on development and application of advanced imaging methods to study oral and head and neck cancers. He has published extensively on the use of ultrasound imaging of oral cancers in flagship imaging journals including Nature Nanotechnology, Radiology and Theranostics. He has also co-authored book chapters on oral cancer and the use of optical imaging methods in oral oncology.
Series outline:
There have been tremendous advancements in science and technology over the last two decades that redefined the scope and clinical utility of radiologic methods in oral and maxillofacial medicine. Radiology has undergone a paradigm shift from the traditional focus on visualization of anatomy to functional and molecular imaging of pathologic events at the microscopic and macroscopic level in experimental models of disease and in patients. Especially in the context of oral oncology, imaging methods have become integral clinical tools that can enable early detection of cancers and prognostication of tumor response to therapy. Imaging-based endpoints are increasingly being utilized as 'biomarkers' to assist in clinical study design, patient stratification and to determine therapeutic success/failure.
In this special issue, we plan to highlight the breadth of advanced imaging techniques that are currently available and their applications in dental, oral and maxillofacial radiology. The imaging techniques/modalities and topics that we plan to cover in this special issue include, but are not limited to the following areas:
Radiography/CBCT
MRI
Ultrasound and optoacoustic imaging methods
Optical Imaging
PET
CT
Cancer Imaging
Machine learning/AI "Radiomics"
Multimodal Imaging
Image-guided interventions
Original research articles (basic, clinical or translational), case reports and reviews on these topics are welcome.
Disclosure:
The series "Advances in Oral and Maxillofacial Radiology" was commissioned by the editorial office, Frontiers of Oral and Maxillofacial Medicine without any sponsorship or funding. Mukund Seshadri is serving as the unpaid Guest Editor for the series.